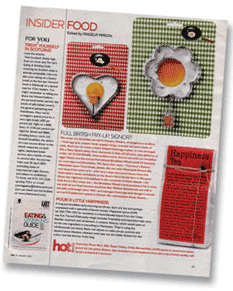 Pour a little Happiness
Sunday Mail, You magazine
19 Janaury 2003
A long pre-breakfast early-morning tea (fruity, dark red, hot and perhaps sweetened with a spoonful of flower honey), Happiness is a hand-blended tisane from the Today was Fun Tea and Philosophy range (includes Friendship and Inspiration teas, too). Besides rosemary and cardamon, it contains hibiscus, which would seem to be the new ingredient in everything Manhattan. They're using the full-flavoured, sun-dried, fleshy red calyxes to make syrups, punches and dessert-sauce infusions, whereas most teas use the milder flowers for the colour and lemony, fruity tang.
- - - - - - - - - - - - - - - - - - -
Country Homes and Interiors
February 2003
Improve your day with an infusion of natural herbs, including hibiscus flower, rosemary and cardamon, all wrapped up in a philosophically-inclined package that claims to help you find happiness.
- - - - - - - - - - - - - - - - - - -
Ian Logan Design Company
Christmas 2002
Happiness Tea. The lady who blends this came into our store when she started. We tried some, so did our customers and we have never stopped selling it since. Her tea is now in demand wherever she goes.
- - - - - - - - - - - - - - - - - - -