our ingredients today


Launching in July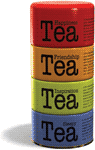 We're very excited to give you a sneak preview of our latest product, the Teastack.

The stacking tin tea caddy is filled with our four delicious organic loose leaf tisanes. Each re-sealable layer comes wrapped in our unique philosophy on how to find Happiness, Friendship, Inspiration and Sleepiness.

No more excuses about not wanting to open the tea because you can't bear to cut the string.

Teastack will launch in Harvey Nichols and The Natural World from 15 July RRP £ 13.95
Happiness Japanese style
Every Friday in Ichikawa, Tokyo Jeff runs an English conversation class called Second Space. "We get together for three hours to practice English, share happy memories and help each other with problems. We only speak in english until 11:30 when we take a break. Everybody brings something to eat, rice biscuits, pocky or cookies and we drink green tea. At the end of three hours we're often tired from laughing so much," writes Jeff.

Here's their take on Happiness, Japanese style.

Happiness is:
hot green tea
when I kiss my daughters cheek, it's so soft
Taking a nap in front of the TV
Hearing the word 'Tadaima' (I'm home!) when each member of my family return home
An unexpected telephone call from an old friend
Finding a pair of missing glasses taking a warm bath
Blooming flowers in spring
Seeing a light on through the window when I return home
the smell of miso soup
Finding an ice cream in the fridge when I'm thirsty
Lying down in bed after a long day
My dog getting excited when I return home
Seeing a flower in MY garden
A movie that turns out to be much better than I expected
My husband offering me the bigger piece of fish at dinner time
hearing distant summer festival sounds like taiko drumming
Catching a taxi in the rain
lying on tatami in the summer, the smell is so good
Listening to the sound of wind chimes
What's that you said?
The Prince of Wales has asked me to thank you most warmly for your letter of 6th June, enclosing a sample of your Sleepy Tea.

His Royal Highness was so touched that you should have thought of him in this way, and he was also deeply impressed by your acheivement, as a relatively young company, in winning the Best New Organic Food Product for 2005.

Miss Elizabeth Buchanan - Deputy Private Secretary to their Royal Highnesses The Prince of Wales and The Duchess of Cornwall.
Tea time
The temperatures are rising on The Tube and hayfever warnings are on the nightly weather report, swimming in bathing ponds seems like a good idea and Wimbledon is on tv, it must be summer. To celebrate we have been making jugs of Iced Happiness Tea and sharing it with all our neighbours.
Gill suggested that our iced tea would go well with something "cheesy" so we set about making something savoury for this month's afternoon tea.
These shortbreads should keep the sugar levels down at least until we hear the sounds of the icecream van arrive later this afternoon.
Jump to it...

what the press are saying about us