We love to get mail
"The Prince of Wales has asked me to thank you most warmly for sending him some of your marvellous carbon neutral green tea.
His Royal Highness was most grateful to you for thinking of him as you did and he is enormously impressed that you have created the first carbon neutral food and drink product in the UK.
This is quite an acheivement and it will, no doubt, serve as an encouragement to others."
Miss Elizabeth Buchanan
Deputy Private Secretary to their Royal Highnesses
The Prince of Wales and The Duchess of Cornwall
August 2006
- - - - - - - - - -
"The Prince of Wales has asked me to thank you most warmly for your letter of 6th June, enclosing a sample of your 'Sleepy Tea'.
His Royal Highness was so touched that you should have thought of him in this way, and he was also deeply impressed by your achievement, as a relatively young company, in winning the Best New Organic Food Product for 2005.
The Prince of Wales has asked me to send you and your team his heartfelt thanks, his warmest congratulations, and his best wishes for your future success."
Miss Elizabeth Buchanan
Deputy Private Secretary to their Royal Highnesses
The Prince of Wales and The Duchess of Cornwall
8th June 2005
- - - - - - - - - - - - - - - - - - - - - - - - - - - - - - - - - - - - - - - - - - - - - - - - - -
Hi everybody,
regards from a kid (of the heart) that is really grateful that there is people like you and grateful for giving me a big smile for my day and for sharing that with my friend!
Sorry for this mail in Castellano* I know perhaps could be difficult to read it...
I will tell you something I always think in my way of living...Time doesn't exist. Life is better when you are not so worried about being on time or being late..., always is better to have priorities than obligations...and when in many opportunities it is difficult to prefer being with your friend then studying...IS THE MOST IMPORTANT THING...For that reason I live without time, because without rules life is better, is happier and you enjoy better each moment! So we focus in the moment and no in what it could come ....

A hug from Chile
Carlitos
*thanks to Maria Luisa Hernandez for the translation
June 2009
- - - - - - - - - - - - - - - - - - - - - - - - - - - - - - - - - - - - - - - - - - - - - - - - - -
I love your tea!
And I love love your whole ethos and philosophy! Ur on my wave length entirely...or I'm on urs. My friend first introduced me to you via a lurvely present in the form of 'Friendship' tea about 6 years ago.
Where are your part time jobs so I can work with you??
I'm training to be a dancer ... maybe you could incorporate dance somehow
lol... maybe dancers tea...see where I'm going with this...and I could be your promo...
Think about it over a cup of the good stuff.
Wishing you all the best and continued success and growth. Love the Friday thing btw - so necessary and real.
Ama Rouge
June 2009
- - - - - - - - - - - - - - - - - - - - - - - - - - - - - - - - - - - - - - - - - - - - - - - - - -
- - - - - - - - - - - - - - - - - - - - - - - - - - - - - - - - - - - - - - - - - - - - - - - - - -
My family went to London, but all I got was this stack of tea… I thought. But then I looked closer – and what a great present! I love the text you've written for each type of tea, those sentences sums up what life is all about! Or at least what I want my life to be all about. Being happy together with my friends, and inspiring each other - and of course that sleepy tea for the necessary break to reload some good old energy. Thank you for brighten up my day!
May 2009 bring you some more great ideas.
Greetings from Norway,
Mona Godø
- - - - - - - - - - - - - - - - - - - - - - - - - - - - - - - - - - - - - - - - - - - - - - - - - -
"Dear All,

A HUGE Ffankyou to everyone at Today Was Fun and Fforest for a really great 3 days' break this weekend.

What can I say? Seamus and I are still talking to each other, I survived 3 days without a hair-dryer or laptop (both critical to me in everyday life usually) and Seamus fell in love with sleeping on a reindeer hide. We cooked delicious dinners in the wind and rain, read by torch-light and the glow of a flickering wood burner, enjoyed a beer (I don't even drink beer, what's going on?) in our very own private pub and re-acquainted ourselves with muesli, boiled eggs and great coffee for breakfast (instead of the usual 'banana on the hoof' job) and we both really enjoyed our canoe trip (thank you to Gary!). Everyone we came in contact with at Fforest, without exception, was delightful, helpful and knowledgeable. Even though I was patently the OLDEST person there last weekend, I certainly didn't feel it and I've come back refreshed, rested ….. and with a very strange hair-do which I think I might keep!

I'll definitely be back and will say only good things about you to everyone I know. It was such a lovely surprise to win the Today Was Fun competition (especially as I didn't even realise I'd entered a competition and was delighted enough to simply add a thought to the inspiration tree at The Real Food Festival!) but visiting Fforest in real life was even better.
Best wishes
Liz
July 2008
- - - - - - - - - -
"A short while ago my colleague Jane Bernardes contacted you and asked if you could send out some badges to us.
You very kindly did so and these badges went down really well with our young people aged 8 – 13 who are currently at risk of offending.
As my colleague probably explained previously, the early Intervention Programme offers intervention for up to six months for young people at risk of offending and we do this by offering sessions of anger management ect. After these sessions our twelve project workers across Essex have been giving out these badges to formally close a session. The badges have been very popular, so much so that we have run out! Would it be possible to send us anymore of these wonderful badges? The badges simply had "today was fun" written on them and your website details."
Dominic Potts
Early Intervention Programme
Essex, United Kingdom
July 2008
- - - - - - - - - -
"Good morning Sharyn!
I am in Salem, Wisconsin and love love love the emails you send. You have the best ideas – I did have a stuffed doodle made for my brother's 30th birthday from a drawing he made as a kid, and that was the best gift ever. Now I would like to build an inspiration tree at a place I go called Radiant Path, and I wanted to make sure you didn't mind. I didn't think that you would – I will bring information about your website with me to share, I just thought it would be even better with your blessing. Thanks much for all you do!"
Missy
July 2008
- - - - - - - - - -
"I can't decide which I love more - love tea or love cookies.
To help me decide all over again, please could you send me the recipe for the cookies?
Thank you so much!"
Cheryl
- - - - - - - - - -

"I purchased your "expectancy" tea because I wanted a tea to help me start my labour. I fell in love with it from the packaging, the writing and the tea.
I love it so much it doesn't matter anymore if the baby comes early and that is true love.
I will be back for more, keep up the good work. Best,
Erinn
- - - - - - - - - -

"Here's a photo of our X-mas gift, which we created around your six "mood" teas and the Pantone Mugs. The paper bag refers to a Dutch tea bag with our Finest Blend tea tag.
Thanks for making tea and packs that make a difference. All the best for 2008."
Steven de Cleen
PROUDdesign
December 2007
- - - - - - - - - -

"I just wanted to say how much I love your website and your philosophy in general. A friend sent it to me and I'm sitting here with a hot water bottle and cup of tea (it's cold grey day here in Glasgow!) and it really gave me a warm glow checking it out. So thanks for the glow! "
Tiff Butterfield
- - - - - - - - - -
"I've just arrived back in England after an incredible two months
volunteering and travelling in South Africa, where I made awesome
friends and met the most amazing man...
So today I was feeling pretty down, and took myself for a walk to a
new shop that has just opened near me, and what should I find in there
but your tea. I spent probably half an hour reading and re-reading the
packets of every single one, and remembering how Glen (my gorgeous
man) and I had spent a whole night talking and drinking tea together.
You have summed up that experience for me-a combination of Friendship
and Love love.
Thank you for brightening my day; I called him straight after and we
talked for hours, just as we did that night over a brew. I'm going to
send him some of your tea very very soon.
I hope that someone touches your hearts just as you touched mine!
Much love and cookies,"
Sophie, London
- - - - - - - - - -
Just enjoyed my first cup of Happiness tea and enjoyed reading the packet but surprised you haven't included "Stroke a cat" in your lovely list! :-)
Sidney
- - - - - - - - - -
"My youngest showing that recycling can be fun

To your good health."

Shayne House
Tea Appreciation Society
http://www.teaappreciationsociety.org/
- - - - - - - - - -
Your tea stack made me smile when I bought it.

Your web site and philosophy make me smile
when I read it!!

Keep up the happy thoughts.

Best wishes and happy days,
Alice
- - - - - - - - - -
...a few snaps from the Festive Eve we held in December (I think we can safely say that many a Jersey stocking contained a magical tea this Xmas!).
Sarah
The Spiral Tree - Jersey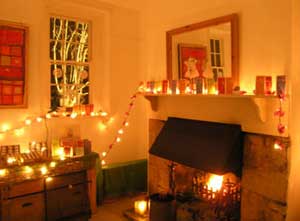 - - - - - - - - - -
We love your suggestion of making cakes and then giving them to the neighbours. (Tomorrow's Soup – Jan 06) Brilliant idea! Especially with chocolate ripple cake, which is deliciously out of this world! Good luck for 2006.
Gill and Rolf (neighbours)
- - - - - - - - - -
Hello hello,
We became today was fun customers following the recent opening of our new favourite shop in our home town, Northampton.
We just wanted to say THANK YOU to you guys as we bought some friendship tea for our friend and she loved it a lot. Also, if you don't know about/have never been to Partridges & co. in Northampton then please do – its ace and a credit to your product.
bye!
Ruthie and Bethy x
PS this is a picture of us at a fancy dress party to prove that we are real and not fakers. Can you guess who we are??
- - - - - - - - - -
We love people who live and work on boats, so we hope
you enjoy the enclosed.
Love from Rowena and Innocent x
- - - - - - - - - -
Dear Sharyn,
This year's Hearst Magazines Mind Body Soul® Retreat was an incredible success – in many respects thanks to you!
Everyone here in New York is still buzzing about the wonderful gifts they received in Arizona, especially the Inspiration Tea.
We sincerely appreciate your unbelievable generosity and assistance in providing our high profile and sophisticated attendees with the most wonderful gifts possible!
Looking forward to working with you again in the future.
Best Wishes,
Events Marketing Team
Hearst Magazines
- - - - - - - - - -
Happiness is:
hot green tea
when I kiss my daughters cheek, it's so soft
Taking a nap in front of the TV
Hearing the word 'Tadaima' (I'm home!) when
each member of my family return home
An unexpected telephone call from an old friend
Finding a pair of missing glasses taking a warm bath
Blooming flowers in spring
Seeing a light on through the window when I return home
the smell of miso soup
Finding an ice cream in the fridge when I'm thirsty
Lying down in bed after a long day
My dog getting excited when I return home
Seeing a flower in MY garden
A movie that turns out to be much better than I expected
My husband offering me the bigger piece of fish at dinner time
hearing distant summer festival sounds like taiko drumming
Catching a taxi in the rain
lying on tatami in the summer, the smell is so good
Listening to the sound of wind chimes

Second Space
English Conversation class, Ichikawa, Japan
- - - - - - - - - -
I would like to take this opportunity to wish you every success
with your Tea and Philosophy range.
Belinda Gooding
Managing Director, Duchy Originals UK
10th January 2005
- - - - - - - - - -
"The Prince of Wales has asked me to thank you for your very kind letter, and to say how delighted he is that you have set up a company which is producing premium organic food.

It sounds an excellent organisation and a marvellous place to work – particularly on Fridays!

His Royal Highness has asked me to pass you letter and the very kind samples of your Tea ad Philosophy range to Belinda Gooding, the Chief Executive of Duchy Originals, which I have done. Duchy Originals is also a very small company with limited resources, but I know that Belinda's staff will provide you with any assistance they can."

With every best wish,
Sir Michael Peat
14th December 2004
- - - - - - - - - -
YESTERDAY WAS DRAMATIC – TODAY IS OK
thank you to Heimir for sending us this CD from his homeland
"Friends of the random summer usually rode bicycles and solved mysteries. Now they sat in the library with stacks of old records around them. They listened on a gramaphone, most of the records stored the sound of people speaking, some the sounds of birds singing. This library was the saddest place. The friends went outside. Yesterday had been dramatic, but today was going to be ok."
- - - - - - - - - -
I'm the one with the hair.
"I just bought some of your tea- 4 packets as that was all they had. Great. Love the sentiment. Always sending stuff to friends and students. I teach anatomy and bones."
Jane Johnson
- - - - - - - - - -

"Loved reading the latest Tomorrow's Soup as always, thanks and keep them coming!

I have been on the We Are What We Do site (www.wearewhatwedo.org), signed up to things we already do, promised to do more and have bought a copy of the book for my friend for Christmas.

Having been inspired by We are what we do Andy and I have reviewed our ethics, compromised by the weather here in Scotland we have the dreaded plastic carrier bags. To try and reduce our shame we ask customers who already have bags with them if they would like to put their purchases in the bags they already have. If they decline we give them a plastic bag! How shameful are we? So newly inspired last last night we discussed the alternatives.

We support a project in Brazil that plants seedling trees in deforested areas. From now on we are going to ask customers if they want to buy a carrier bag which we will donate to the re-planting project. We shall only supply paper carrier bags from now on which will of course be made from re-cycled paper.

We hope to raise awareness of the plastic bag problem, point out the 500 year legacy we are leaving behind and raise some money to help re-plant trees, all thanks to you and your Tomorrow's Soup."

Andy and Ali
Ellwoods of Dumfires - Scotland
- - - - - - - - - -


" ...to Sharyn Wortman, mistress of two arts. How to work well, and how to stop."
Andrew Jolliffe
- - - - - - - - - -
"Tomorrow's Soup is one of the highlights of my month. Keep up the brilliant work there needs to be more people like you."
Juliet Bawden
- - - - - - - - - -
"...thought the manufacturer of Happiness Tea should be the one to possess this box with the "Double Happiness" symbol on it. Wishing you double happiness always."
Susi Rajah
- - - - - - - - - -
"Love the idea of "Happiness Tea".
Jenny Bradbury
- - - - - - - - - -
"A lady came in here and bought a packet of Inspiration Tea but she had to stand there and read it all the way through first."
Pomona Grocers – Belsize Park
- - - - - - - - - -
"I have now placed my first order with beautifulthings.com and eagerly await delivery!"
Kate Blackman
- - - - - - - - - -
"I just discovered your tea & company today, I quickly bought some for my mum-in-law who I'll be seeing tonight, I am sure your tea will cheer all of us up.
Reason I had to write was just to say I think you are a really cool company & if only more were like you guys the world would be a better place, well done, keep up the good work, & all the best."
K. Kihara
- - - - - - - - - -
"Hello Fun People,
came accross your product, Happiness Tea, which was given to a friend of mine at a very traumatic time, what a wonderful thing to see a happy smile from her after so much heartache!"
A. Tweedie
- - - - - - - - - -
"Uplifting."
Dave Brubeck

Finally, the celebrity gossip. Dave Brubeck and Kylie Minogue are now amongst our drinkers; and while Dave went straight for Inspiration, Kylie was after Friendship.