Hello,
We've been busy working on our next product, code named "soul mates". It's involved numerous pots of tea and sampling mornings in the office. We'll let you know more next month but needless to say you're going to love it! We certainly do, the extra kilos are evidence enough.
In the meantime here are some fun ideas to make your week.
One red paperclip

I recently bought a book called One Red Paperclip because it sounded like an intriguing idea and I needed something to read on my train journey home. It's the story of Kyle MacDonald and how he traded one red paperclip for a house.

In a series of "up trades", each time for something bigger and better, he manged to acheive his goal of trading a simple paperclip for a house in exactly one year.

His journey was built solely on self belief and although I started the book knowing the outcome it was compulsive reading to find out how on earth he managed to do such an impossible thing.

In the spirit of Kyle I now offer my copy of the book to anyone that is willing to offer me something bigger or better. Offers please? I'll publish the successful trade next month.
Stuff your doodle

I love this idea.

Draw a doodle or even better get your kids to draw one. Send it to Lucy (the moose) in Scotland and she'll send you back a soft toy to your exact design. Warts and all.

They're made of recycled fabrics and are so different from anything you're ever likely to see on the high street.

Get doodling!
Knowling sold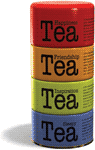 The John Lewis partnership was set up in 1920 by John Spedan Lewis and enjoys the simple philosophy that everyone who works for the company is a partner rather than just an employee.

It was, and still is, an ambitious and most admirable vision of how a business can put the happiness of its employees at the heart of everything it does.

We're delighted to announce that our range of Tea & Philosophy is now available at all 26 John Lewis department stores across the country.

Let's all spread the Happiness.
what's that you said?

"I have just set up a 'more-than-profit' organisation and could really relate to some of what you have written. Sometimes it is about more than the money, it feels necessary to try and make a difference. So thank you, I am glad to have 'met' you." Stella Onions

"Just a note to say how fab your Sleepy Tea really is! It has become my wife and I 's staple drink at bedtime and it works !" Colin Farely

"Just enjoyed my first cup of Happiness tea and enjoyed reading the packet but surprised you haven't included "Stroke a cat" in your lovely list!" Sidney

Tea time

I've made lots of chocolate cakes in my time but this one's the best yet.
Made with ground, roasted pecan nuts the cake comes out deliciously nutty, chocolatey and moist.
Try try try. You won't be disappointed. This one comes with my personal guarantee.
a little more fun...

Five big questions you've been avoiding