Hello,
There's nothing more exciting than an idea who's time has come. This is how we're feeling this month about a number of things. Firstly about our latest product to launch, Tea & Cookies, secondly the UK launch of Susi Rajah's* first novel, Heaven.
*if you're wondering, Susi writes all the words on our packaging. She went to town on the Green Green tea, even though we told her to save some words for her novels!
Soul Mates

Toast and jam, birds and bees, rock and roll, everything has its perfect match and we're glad to announce that after a little searching our Love Love Tea has found its mate.

Based on our ever popular Teastack design, Tea & Cookies is another unique idea from Today was Fun.

In the top tin is 30g of our delicious Love Love tea blend (including a love note). In the base of the tin is 110g of the most buttery organic biscuits you're ever likely to taste.

You'll find our brand new Tea & Cookies on the shelves of all our favourite stockists this month. Stocks are limited so don't wait around too long.
Win Neat Stuff

This month we're giving you the chance to win the novel that might save you and the tea that might save the world!

25 copies of Heaven®, Susi Rajah's "sinfully funny" and "hysterically subversive" debut novel about love, God and advertising are up for grabs. And at the same time we're giving away a box of Green Green Tea with each prize.

The contest ends 31st October. Good Luck!
Playing swaps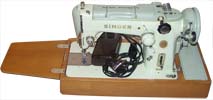 There's been a deluge of offers for my copy of One Red Paperclip. Now I know how Kyle MacDonald felt when his plan to swap one red paperclip for a house started to swing into action.

I have decided to take up the offer of a vintage Singer 319K sewing machine (from the 1950s) with all its bits and bobs intact.

I'm very happy to stop this swapping here as I have secretly hankered after a sewing machine for a long time. But if anyone wants to keep this game going let me know what you'd like to swap for my 1950's Singer sewing machine. All offers will be considered but remember it needs to be something better!
Tea time

It's been a hard job but the team at Today was Fun have been more than willing. Over the last 12 months we've sampled everything from Turkish Delight to chocolate covered Italian nougat.
In the end nothing seemed to pair up with our Love Love tea better than good old fashioned, organic buttery biscuits with a sprinkling of sugar.
Some purists may call them shortbread but we'd prefer you make up your own mind.
By the time you've scoffed your last heart shaped cookie we'll have finished translating down our industrial sized recipe. Stay tuned and we'll share it with you soon.