Hello,
It's been a busy start to the year, and already life has thrown in some huge surprises I couldn't have bargained for.
We've been working on a new tea to "Save the World and make you devastatingly attractive." Our current range of tea has passed the audition and will be soon appearing on the set of one of Britain's most popular soaps.
Meanwhile Dr Phil has been visiting far flung teahouses in China.
our ingredients today


When I'm Gone

Losing a parent, or someone who is dearly loved, is one of the most disorientating experiences in life. When my father died suddenly in February this year I flew home to help my family make decisions we'd never faced before about his affairs.

In a television show this week, it will be revealed that two thirds of the British population have never discussed their final wishes with their friends or family.

We were lucky as Dad had told us exactly where to find his will and where he wanted his ashes scattered. Even though there were a lot of questions that were left for us to answer.

When I returned to London I wrote a list of questions down that everyone should take the time to answer. Print it off and send it to the people that you really care about. It's something worth talking about.

How to have a good Death BBC2 Thursday 9pm.
Drinking the tea in China

There's no better place to drink some of all-the-tea-in- China than Beijing Teahouses, especially at the Lao She Tea House where tea-making ceremonies are accompanied by daily performances of Beijing Opera.

For the Chinese, Beijing Opera has cultural significance akin to the Blues for Black America - a deeply ingrained emotive bond with the most ancient traditions of folklore. The roots of Beijing Opera go back to 1790 when four performance troupes arrived in Beijing to perform for the Royal Family. Their own traditions morphed into a single performance, evolving melodies that became the foundation of Beijing Opera.

Although the plots of revenge and sex will be familiar from Western opera, the sound of Beijing Opera is entirely indigenous and unique. Vocal production is half-sung, half-declaimed and the action is accompanied by an obstreperous percussion ensemble, rich in timbral possibility.

A visit to Lao She is essential for any Beijing visitor - and, be honest, when was the last time you got a decent cuppa at Covent Garden?

Dr P
Podcasting


Ricky Gervais has one, as does Paris Hilton and even Women's Hour on the BBC has one. Jeff, my brother now has one too. Each week Jeff puts together a podcast called Waxing the Daschund. It includes interviews with an ecclectic mix of friends and collegues who cross his path, all with varying commands of the English language. Log on and upload for 15 minutes of light entertainment, perfect for a lazy Sunday afternoon or tube journeys into work.
Your chance to win

We're currently running a competition in conjuction with Live It Magazine to win one of our rainbow coloured Teastacks.

All you need to do is send us your name and address and complete the brief personality test set out below. The first fifteen entries received before April 30 will win one of our Teastacks so get cracking...

Take an A4 piece of paper and fold it in half lengthwise. On the left handside write down all the names of the people that you admire. On the right hand side, next to each name write the qualities that you admire about that person.

There, you're done. If you want the results of this test include a self addressed stamped envelope and send it to Today was Fun Ltd PO Box 47072, LONDON SW18 1XU.

Tea Time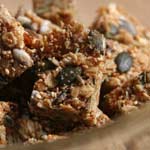 Last weekend I remembered just how much I love cooking for people.
The sun was streaming in the windows of our boat and our friends sat around the kitchen table urging Chris and I to deliver something surprising and tasty for their lunch.
On the menu we had "Rugger Lamb" layered with chorizo, garlic and ginger, delicious runny brie and a gooey chocolate cake with almonds.
As we were saying goodbye I made everyone a goody bag to take home which included a box of play lunch for the following day.
Here's to many more experimental dinners with friends.
Jump to it...

What Anita gets up to on her Fridays