Hello,
did someone say summer? We've been busy perfecting our Inspiration Iced Tea recipe and watching the BBC weather report with high hopes. No sun yet!
We've been busy working on new ideas again. Some are for Christmas and some are way off in the future. One suggestion we had from a customer was that Today was Fun should have it's own tv show. If you've got any ideas on what Today was Fun should do let us know, we'd love to hear from you.
Wholefoods comes to town

Fancy making your own cashew nut butter? Ever wondered what fresh tumeric looks like or want to turn your hand to mixing your own muesli? The World's leading organic and natural food supermarket, Whole Foods, opened its doors in London last week to reveal 80,000 square ft of retail space dedicated to serving Londoners organic and sustainable food. And we love it.

Our Happiness tea is sitting proudly in the window display and our Tea & Philosophy range is sitting happily on the shelf downstairs in the grocery department.

We'll be there sharing our Green Green tea on the 24 July so pop in for a cuppa and visit what some are calling the future of British Food retailing.
climate change- nag nag nag

It seems like almost every newspaper, magazine and radio program is currently urging us to do our bit for climate change and the environment.

Don't get me wrong I think it's great but it can all be a little overwhelming.

This is where a new website called The Nag helps out. They promise to send you one positive thing to do to help save our planet each month.

True to their name they'll keep on nagging you until you've done it. Just like Mum used to do!
Tea with the stars

Prince Azim of Brunei recently celebrated his 25th Birthday with a private bash at a London hotel. His 200 strong guest list included current stars and those of yesteryear. Jerry Hall, Olivia Newton-John, Faye Dunaway, Naomi Campbell, Kate Moss and even Pamela Anderson. But the star of the night was Prince Azim's all time hero, Michael Jackson.

When his guests had finished tucking into the lavish spread they returned to their rooms to find loads of goodies including a range of Tea and Philosophy from Today was Fun

MJ if your drinking our tea: it's better drunk black not white.
Tea time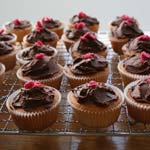 Everyone loves cupcakes, big and little kids alike.
These cupcakes are easy peasy. Throw all the ingredients into a food processer and hey presto.
The hardest part is deciding what sprinkles you're going to put on top.
a little more fun...

trampling daisies and kissing frogs