Happy 2006,
We're back and ready for a brand new year after our wonderful Christmas break.
The new product scrapbook of ideas is out and we're putting systems in place to cope with all our orders this year.
If you have any ideas about the types of products Today was Fun should make, or suggestions for our Tomorrow's Soup ingredients then let us know. There is an email link below for all you bright sparks out there. One hint - we're not interested in creating a clothing range for dogs or greeting cards with smutty inuendo stuck to vintage photographs.
our ingredients today


New Year Resolutions

New Resolutions should start with last year's diary. Take a moment to leaf through 2005, page-by-page making notes of all the things you did, people you met and places you went. Invite a friend to do the same and meet up for a cup of tea to share your findings.

I really believe that we don't give ourselves enough credit for all the things we acheive in life. Instead we find ourselves endlessly chasing a list of things we want to do in the future, a list that never ends.

Once you have given yourself a pat on the back and remembered all the wonderful, difficult, proud and exhilarating moments of last year you are ready to move on and look at the year ahead.

someone with questionable ideas for 2006 »
Caravaning our tea into Russia


Tea (along with vodka) is the national drink of Russia so we thought we'd better get in on the act. The days of queueing for black bread are over and the middle classes have money to spend. It's now more likely to be queues for Happiness Tea and Byron Bay cookies at Garderobe on a Saturday morning.

Garderobe, 24/1 Bolshaya Nikitskaya St, 125009 Moscow - tell Igor we sent you.
Chic Canvas

For people dreaming of escape from January's gloom and others planning to make the trek to Europe for the Summer we have a great idea...

...camping but not as you know it! Ruth and her husband Lodewijk have set up Canvas Chic and their camp in the South of France looks amazing. Guests stay in handcrafted Yurts filled with all the luxuries of a four star resort.

Coupled with stunning locations, it looks good enough to give up the luxury villa and enjoy a couple of nights sharing communal wash facilities!
Tea Time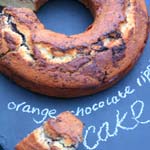 We're completely ignoring all the GI diets in the paper and "New Year-New You" articles and have a wonderful orangey spicey chocolate cake for you to make.
If you are determined to be good and want to stick to that New Year Boot camp training you enrolled for, then enjoy one slice and give the rest away to your neighbours.
Those with small children who have just returned from the park covered in mud will be most appreciative.