The New Year, new you, new body, new life - nothing new there then?
I propose that this year we all learn how to be gentle with ourselves. Instead of making a list of new year's resolutions, write down all the things you already have. Be gentle and take a moment to reflect on just how lucky we really are.
Since Boxing Day I have found myself watching the holiday makers' camcorder footage on Sky News hoping to understand the scale of the Tsunami disaster in South East Asia. As much as I try, I can't imagine losing everything I know, and everyone I love, to a great wall of water.
The response from everyone on our planet has been truly amazing. Armies and their equipment are now being deployed to do something helpful, aid agencies and governments are working together, people in the immediate areas have been giving the little they have to their neighbours and the greater population of our planet has been donating money and goods. If you haven't done so already, please take the time now to make a donation online. The Disasters Emergency Committee - www.dec.org.uk. Your donation will make a difference.
our ingredients today


A cup of Tea and a nice sit down
Put a cup of tea in your hand, and what else can you do but sit down? This wonderful new book is a celebration of that most British of life's cornerstones: taking a break, putting your feet up and having a breather.

Take a weight off, put the kettle on, and enjoy. »
Today's all we've got, and that's a lot.

Action No.11 GET FITTER, FEEL BETTER
Try walking more.
Try taking the stairs, not the lift.
Or walking up escalators.
Obesity is turning into a massive problem in the developed world. One suggestion from doctors is to do something simple like walk up a couple of flights of stairs every day.
Although, if you are obese, you're not going to want to do this because inevitably you'll sweat a lot. Which will draw attention to the very thing you're trying to deal with.
So much for doctors.
But try walking as much as you can do.
If that's only from the dessert trolley to the cheese board and back again - well, that's a starter. Well, no it isn't - it's a pudding. But you get the idea.
what else can I do to change the world? »
Press darlings
Look out for our Expectancy Tea in Pregnancy and Pregnancy and Birth Magazine - February issues.

There is more press lined up for March, so stay tuned.
What's that you said?
"We have been on the We are what we do site, signed up to things we already do, promised to do more and have bought a copy of the book for my friend for Christmas." Andy and Ali- Ellwoods of Dumfires
...to Sharyn Wortman, mistress of two arts. How to work well, and how to stop. Andrew Jolliffe - UK
"The Prince of Wales has asked me to say how delighted he is that you have set up a company which is producing premium organic food. It sounds like an excellent organisiation and a marvellous place to work- particulary on Fridays!" Sir Michael Peat - Clarence House
What we get up to on Fridays... »
Tea time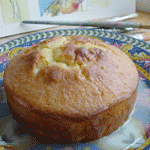 After all that rich fruit cake and brandy laden Christmas pudding we thought we should make something light and zesty.
Awaken your taste buds and put a little zing into your January.